Welcome to Serosurvey Tools!
This resource provides guidance to individuals designing and conducting serosurveys, or studies that test bodily fluids to estimate what part of the population has been vaccinated against or infected with a disease—and how many people remain susceptible. Serosurveys can:
Involve collecting and testing blood or oral fluid specimens to measure the amount of antigen-specific antibodies in a group of people or detect presence of antigens,
Reveal what part of the population has been exposed to an infectious disease or been protected from disease by immunizations, and
Estimate the level of population immunity as well as gaps in immunity, such as groups of people who have not been vaccinated or previously exposed.
---
Who Can Use Serosurvey Tools?
The modules provide step-by-step directions on how to design and conduct serosurveys for infectious diseases, particularly vaccine-preventable diseases. The modules may be used by those considering commissioning, implementing, analyzing or using data from serosurveys. The modules span different aspects of surveys so will interest people with epidemiological, statistical, laboratory, managerial or budgeting backgrounds.
---
Based on Diverse Country Experience
The modules have been designed based on experiences with measles and rubella serosurveys in India and Zambia, but many of the lessons are applicable to other settings and other infectious diseases or emerging diseases such as SARS-CoV-2.
---
Modules of Serosurvey Tools
Serosurvey Tool's modules provide in-depth and tailored learnings for each step in the design and conduct of a serosurvey in a target population.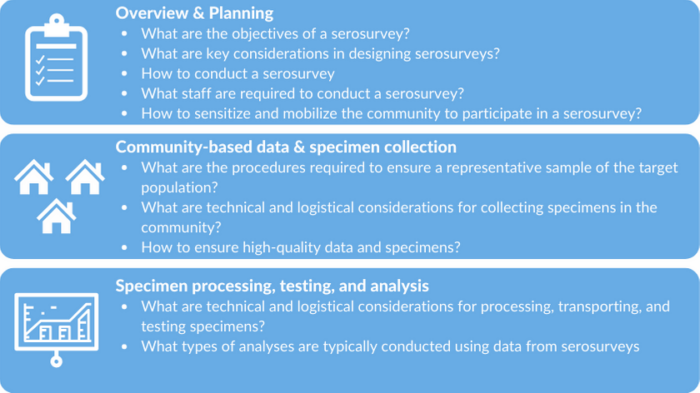 ---
Serosurvey Toolkit
Each module includes data collection tools designed for measles and rubella serosurveys conducted in India and Zambia. Look for which tools are most relevant to your planned serosurvey and adapt the materials to specific procedures and content.
---
Additional Resources on Serosurveys
International agencies at the global and regional levels have prepared guidelines for conducting serosurveys. Here we provide more in-depth modules that complement the guidelines, to help with each stage of the survey. The initial set of modules focus on aspects specific to the collection of specimens in community-based surveys. WHO resources listed below explain how to plan and conduct community-based survey aiming to enroll a representative sample, including sampling, mapping and enumeration of selected survey clusters, and data collection.
---
Pacing and Length of Modules
Learners can select modules and sections most relevant to their role and review content at their own pace. The amount of time required to go through the modules will vary based on the level of detail desired.
Program staff launching a serosurvey, such as those seeking local approvals and community support, may review the introductory section of each modules.
Researchers or managers designing or implementing serosurveys and laboratory personnel processing specimens or performing laboratory assays will need additional time to review the module content and download toolkit materials.
Those involved in laboratory processing and testing may not need to review the specimen collection module. However, lab personnel may provide valuable input into the collection and storage of specimens.